Learn Why You Should Buy Certified Pre-Owned with This FREE eBook
As White Plains, New Rochelle, and West Chester County drivers prepare to purchase their next used car, they may have one big question on their minds: What sets a Certified Pre-Owned car apart from your standard used?
You'll actually find that there are plenty of big differences between these two types of vehicles. To show you exactly what they are, the BMW of West Chester team has put together this FREE Why Buy Certified? eBook. Inside this resource, you'll discover: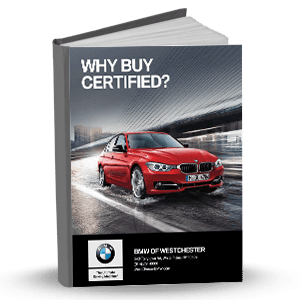 The many advantages of buying Certified Pre-Owned
What to look for when shopping for your car
How to choose the best Certified Pre-Owned dealer possible
The car buying journey is definitely a fun one. And it's a whole lot more fun if you're well-informed. Before buying your next used car, be sure to download this Why Buy Certified? eBook!
Why Buy Certified eBook Download
Dealership Info
Mon - Thu

9:00 AM - 8:00 PM




Fri

9:00 AM - 7:00 PM




Sat

9:00 AM - 6:00 PM




Sun

Closed
Mon - Thu

6:30 AM - 8:00 PM




Fri

6:30 AM - 7:00 PM




Sat

8:00 AM - 4:00 PM




Sun

Closed
Mon - Fri

6:30 AM - 7:00 PM




Sat

8:00 AM - 4:00 PM




Sun

Closed
Mon - Fri

9:00 AM - 6:00 PM




Sat

9:00 AM - 4:00 PM




Sun

Closed