Tire Repair White Plains, NY

What could possibly be more important than keeping your tires in good shape? After all, everything rests on your tires – literally and figuratively. Not only do they physically support your car as you're driving along, but healthy tires contribute to performance, handling, fuel efficiency, safety, and much more.
That's why our service team here at BMW of Westchester has put so much energy into our Tire Repair department. If you live around Westchester County, Yonkers and Hartsdale, NY, or any of the other surrounding New York communities, then we're happy to serve you at one of the top tire repair spots.
BMW Tire Repair Services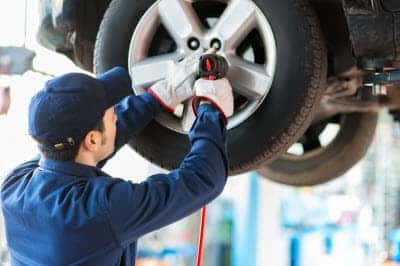 First and foremost, we specialize in BMW tire repairs and replacements. So, regardless of whether you're driving a new model or an old model…a 3 Series, a 5 Series, a 6 Series, an M4, an X1, or any alternative BMW models…we've got you covered. We even work with the luxurious BMW i8 coupe.
However, our expertise aren't just limited to the realm of the BMW. We also deal with plenty of cars, trucks, SUVs, crossovers, minivans, and commercial vehicles from a wide range of manufacturers. In other words…if your tires are busted, we can help. It's that simple. Get in touch with us right away.
BMW of Westchester: Our Tire Repair Team
Not only can our experts repair or replace your tires, but they can perform any other necessary services, too. Low air? We'll fill 'em. Driving for years? We'll rotate 'em. Bored with the norm? We'll upgrade 'em.
Best of all, we always work courteously and professionally, treating you with the respect you deserve.
Contact us today to set up your tire repair appointment. Thank you!
It's extremely easy to schedule a tire service appointment…especially if you live around Westchester County, Yonkers and Hartsdale, NY. Just call us on the phone, stop by our service center in person, or fill out a quick and easy form on our website. We hope to hear from you soon. Happy driving, friends!