How to Boost Your Car's Trade-In Value
You can boost your car's trade-in value in a few ways. Trading in a car has numerous benefits and that boost to its value will give you the best chance to enjoy all of them.
Drivers near Westchester County, Yonkers, and Hartsdale, New York, can visit us at BMW of Westchester today to get their current car appraised. In the article below, we'll go over some ways to boost its value and how to get it ready. If you have questions about the trade-in process prior to visiting, contact our team!
Boost Your Car's Value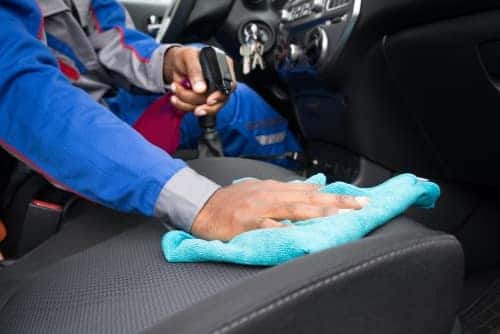 To begin boosting your car's value, you can start simple. Go to the local car wash or get out your supplies to rinse off the exterior of your vehicle and polish the glass. Then, take a vacuum and run over the carpets, seats, and trunk area to pick up any dirt or debris.
If you'd prefer a professional to take care of certain items, you can get the vehicle detailed and have small issues fixed. Your car might have some paint scratches or low fluid levels, and a service center can help you fix them before you trade it in.
To boost your car's value further, bring your maintenance records for the appraisal. It's important to show that you've taken good care of your car and that it's in the best shape possible. If you recently got something fixed or replaced on your car, you can bring the receipts from those purchases to demonstrate another example of the well-rounded maintenance you've addressed.
How to Get Ready for a Vehicle Trade-In
Many of the methods you used to boost the car's value will also play a role in getting it ready. In addition to the service records, you should find the following:
Car's title
Car's registration
Owner's manual
Spare keys
Vehicle accessories
Another important step is to delete all the data from your technology systems. Many drivers connect their smartphones to the infotainment system or use a garage door opener for added convenience. However, those systems hold personal information you want to erase for your safety.
Benefits of Trading In
Trading in a car is beneficial thanks to the simplicity with which the process is carried out. You get your car ready to be appraised, one of our team members gives you a value, you agree to it, and the exchange is completed. Our team will have the necessary paperwork on hand, with assistance from the documents you bring, to make the transaction official.
Additional benefits to trading in a vehicle include the fact that your car's appraisal amount will be included in your upcoming finance plan to get you a better value. Then, in most states, you'll only pay sales tax on that new value rather than the original price of the vehicle. This better value results in a more beneficial payment plan.
Trade In a Car Today!
You can trade in a car today when you visit us at BMW of Westchester. Our team will work with you to determine a fair value and soon have you driving a new set of wheels throughout Westchester County, Yonkers, and Hartsdale, NY. Contact us with any questions!
---