Grab Your Meal from the Roots at Grass Roots Kitchen
Your love affair with healthy fare starts at the Grass Roots Kitchen. Whether you stick to a vegan menu or crave a hearty meaty meal, their crossover dishes make every eater come back for more. They take fresh and tasty to the next level with their innovative takes on "fast food." If you've never tried one of their veggie-centric offerings, your views on vegan meals will be happily upended.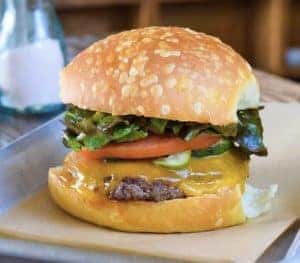 Starting from the Roots
Owner David Starkey added the Grass Roots Kitchen to his roster of restaurants, which include Tomatillo and Sweet Grass. With the assistance of chef Juan Jimenez who manages the restaurant kitchens, Starkey developed the Grass Roots menu. The menu bridges the genres of vegan cuisine and quick and healthy "fast food" choices.
Getting to the Roots of the Menu
Their farm-to-table menu starts with Grass Roots's use of sustainably grown local produce and ethically raised meats. From breakfast to lunch, your order features large portions of healthy and creative dishes. Vegan-friendly ingredients populate most dishes, but those who want some meat on the menu will be satisfied with their 100 percent grass-fed burgers and chicken sandwiches.
In the morning, breakfast consists of delicious baked goods, ranging from donuts and biscuits to egg with pork bacon and vegan egg sandwiches with their excellent shiitake mushroom "bacon." All breakfast items get prepared in-house by chefs and served by waitstaff who take note of any dietary restrictions you may have–just so you can enjoy every last bite of a vegan or non-vegan delight from their extensive and health-conscious menu.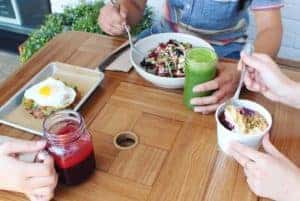 Branching Out to Lunch
Stick around a little longer or head over after a workout, and the dishes will make you rethink lunch. Sink your teeth into one of their unusual and delectable burgers such as the popular beet burger and the crunchy falafel burger.. Or, order a traditional cheddar cheeseburger!
Other meals include a mouthwatering veggie burrito with refried beans and fresh avocado or a carrot kelp burger. Pair any sandwich or burger with their unique root fries made from root vegetables that come with savory beet ketchup. Tap into your thirst with one of their refreshing juices or a custom-made smoothie that are served throughout the day.
Plant Yourself at Grass Roots Kitchen
Start a love affair with healthy fare! You can find creative plant-based choices and easy-to-grab healthy wraps and burgers at Grass Roots Kitchen. Check out their nutritious and delicious menu items on Instagram!