Community Spotlight: Lynn Fern Photography

The old axiom that a picture is worth 1,000 words is in itself a picture of Lynn Fern Photography.
To know Lynn is to know her photography and vice versa. Lynn is a self-described "creator of cool stuff" who has found photography to be another creative outlet. A furniture painter by trade, Lynn picked up a camera as a way of directing her creative skills, and she decided to put the camera to work.
---
Where She Began
​Lynn had always had an interest in photography, so she worked at it over most of a decade, learning the craft and getting better at it. Photography had served the purpose of linking her other endeavors on the internet as she posted pictures of what she made on her blog.
---
Lynn Fern Today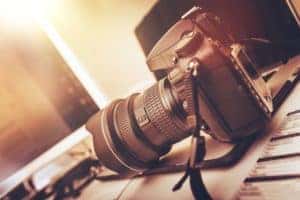 Today, you see a lot of Lynn's local experiences living and working in New York's Hudson River Valley. Lynn has worked for several publications in the area, providing photographs of local events, whether in the community or the school, including sporting events. Lynn took a strong liking to shooting sports and takes particular pride in shooting the Cornwall High School football team, which won the state championship two years in a row.
Lynn enjoys working with families and trying to create a memory out of a family event, no matter what it might be: weddings, anniversaries, religious events, birthdays, school events, graduations, school plays, corporate events, parties, fundraisers, or just family sittings. Lynn takes pride in being able to create the setting and mood of each event or occasion and transform it into a memory, in the most artistic way possible.
Every booking will yield a number of digital photographs the client can use in whatever way he or she desires, whether it be to share with family and friends or for a professional portfolio. Lynn Fern can schedule an appointment for your engagement photos, maternity events, pet photos, or any other type of portrait photography. Lynn Fern's slogan is, "Capturing the moments of today that will wow your heart tomorrow."
---
How to Book Your Photoshoot
Most photoshoots are scheduled for an hour, but Lynn is flexible depending on your needs. She will provide the client with 100% of the photos she takes during an hour session. Mini sessions, which run a half-hour, include 15 edited, digital copies. Clients can schedule mini sessions in the studio all year long, and sessions can be done outdoors from spring through late fall.  ​Lynn Fern can provide rates for professional headshots, and she is willing to travel if you have a particular location in mind that you want to have your photoshoot done at! Just contact here right online or by giving here a call to see what her availability is and to book your next session.
---
Ready for Your Close Up? ​
You can contact Lynn Fern by going to the contact section on her website or by calling her directly for more information. Whether you want to get portraits of your family at her studio or head outside for your engagement photos, Lynn Fern is ready to capture the memories! Check out some of her work too on Facebook, Twitter, or Instagram.