Community Spotlight: Community Center of Northern Westchester

Since first opening its doors back in 1992, the Community Center of Northern Westchester has helped the community in so many different ways. The food pantry may remain at the heart of what the Center does, but many other services have helped those in Westchester and beyond.
What does this organization mean to the community, and what have they accomplished? Let's take a closer look.
Serving Westchester for Almost Three Decades
The Community Center provides food and clothing for households across 38 Westchester-area communities and also offers classes and special programs. They work directly with clients to gain access to health care, education, and social services.
These important services are offered free of charge to anyone who needs help, whether new to the area or a long-time member of the community.
The food pantry continues to be a critical resource for over 2,000 families in the area. One in five residents in Westchester County is food insecure, with the food pantry providing supplemental food items at this "choice" pantry. That means any visitor can choose items within a specified category.
Classes and Workshops Available
The Community Center of Northern Westchester has designed classes and workshops to help clients develop needed workplace skills, along with teaching them how to manage resources and attain self-sufficiency.
Classes include Basics of Construction, which teaches students how to read blueprints and calculate materials while learning about basic construction skills. Other classes include Restaurant Skills, English Language Conversation, and Basic Computer & Internet Skills. These classes have been very helpful to clients over the years, and many have been made possible by the generous donations of Westchester residents.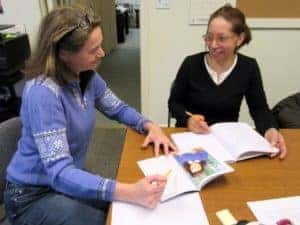 Everyone Loves to Volunteer at the Community Center
Want to give back? The Community Center of Northern Westchester always appreciates contributions from those in the region. A number of generous donors and volunteers are able to make what the Center does possible. You can help by donating important foods to the pantry like fresh fruit and vegetables, cans of soup, peanut butter and jelly, and baby food.
Or, consider cleaning out your closets and donating that clothing that you no longer have a use for. You can even volunteer your time.
Dedicated volunteers of all ages are needed, from teenagers performing community service to parents with school-aged children to retirees looking to give back. Volunteers help to support the daily operations, receiving and sorting donations. Various shifts are available, so reach out to the Center for more info about volunteer opportunities.
Help Neighbors in Need
The Community Center of Northern Westchester has helped neighbors in need since 1992. With the support of a number of sponsoring organizations and the generosity of a strong network of volunteers, this organization will continue to positively impact the lives of many in the Westchester area.