BMW 6 Series Dashboard Symbols

No matter if you have a coupe-, convertible-, or sedan-style BMW 6 Series, you know how impressive a car it truly is and how much you love driving it. You want to carefully protect it from any unnecessary damage, and our team at BMW of Westchester wants to help with that.    
Your 6 Series communicates with you in different ways, and the dashboard warning and indicator lights are one of them. Learning what the different symbols and lights mean can help you better understand what your car is indicating and what it needs, making sure any smaller issues don't bubble into more severe service needs down the road.  
If you're the owner of a BMW 6 Series in the Westchester County, Yonkers, and Hartsdale areas, make sure to read our helpful dashboard symbol overview below!
Orange and Yellow Lights 
Your BMW 6 Series uses a set of different dashboard symbols and colors to indicate that certain features are engaged or to warn you of features that may have malfunctioned. Typically, orange and yellow lights indicate less serious issues or correlate to a system in your car that you've turned on. 
Active Cruise Control
This indicator light refers to the intelligent Active Cruise Control feature and illuminates orange. This symbol looks like a road with rows of bars in-between. The number of bars shown on the road corresponds to the distance from the vehicle driving ahead of you to help you make sure you're keeping a safe distance. 
Flat Tire Monitor (FTM)
If you happen to puncture one of your tires, the Flat Tire Monitor (FTM) feature will let you know. This symbol resembles an exclamation point surrounded by an open circle with ridges at the bottom. This symbol illuminates yellow and signals the loss of tire inflation pressure. If this symbol illuminates, you'llwant to reduce your speed and pull over to the side of the road cautiously. 
Red Lights 
If you notice a symbol illuminating with a red glow, your BMW 6 Series is warning you of a more severe issue. If not handled quickly, this can result in more costly repair issues in the future.   
Airbag System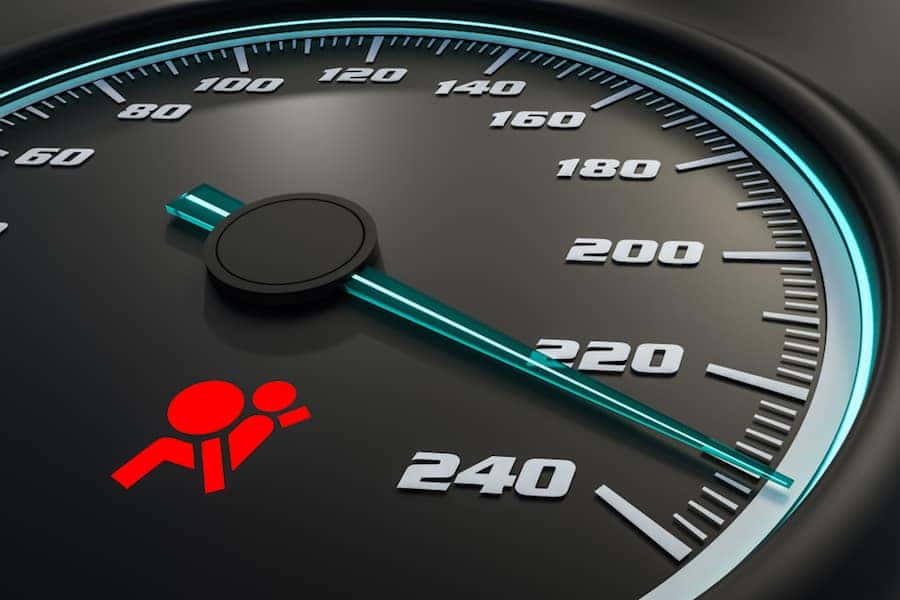 This symbol resembles a passenger with a seatbelt on with an airbag in their lap. If this illuminates red, it could possibly mean the airbag system and belt tensioner are defective, meaning it will not protect anyone in the case of an accident. If you see this symbol, make sure to visit your nearest authorized BMW service center to get it repaired.  
Parking Brake
When illuminated red, this symbol appears as "PARK" overtop a capital "P" surrounded by a circle and parentheses. This symbol means the parking brake is currently engaged and should be disengaged. If you find that it's stuck, make sure to visit a service center as soon as possible as driving around with an engaged parking brake can cause irreparable damage to your BMW 6 Series.  
Discover Our Service Center Today!  
When your BMW 6 Series is communicating with you through dashboard indicator and warning signals, you'll want to know what they mean and act accordingly to prevent any severe repairs. 
If you're local to the Westchester County, Yonkers, and Hartsdale, NY, areas and notice an illuminated symbol of the wrong color, you can call on our dependable service team to help you fix it. Schedule a service appointment with our team at BMW of Westchester today!