BMW 5 Series Maintenance Schedule

To help maintain the superior performance of your BMW 5 Series, our team of trained technicians here in our service center at BMW of Westchester are able to perform any maintenance that is recommended for your vehicle.
We also want to help you know exactly when certain components should be replaced and systems inspected. Follow our BMW 5 Series maintenance schedule below to keep your 5 Series in top shape while cruising around Westchester County and Yonkers for years to come!
Getting Your Oil Changed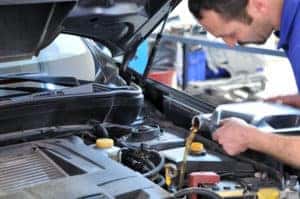 Your oil should be changed regularly, usually as early as 5,000 miles or every six months. Your oil may be able to last longer, possibly up to 10,000 miles, depending on your daily driving conditions, so it is important to regularly check the condition of your oil.
Contact our service center today!
When it is time to change it, we will be able to put in fresh oil and a new filter in a quick manner for you. While getting your oil changed, it is also a great idea to have your tires rotated and brakes inspected as well.
Having your tires rotated helps you maximize the lifespan of the tires, so they aren't wearing unevenly. This will also allow the tires to continue to give you great traction while driving. Over time, your brake pads and rotors will wear and need to be replaced too. Since this also depends on your driving habits, having the brake system regularly inspected is important as well.
Replacing Other Parts
As you continue to enjoy the driving experience of the 5 Series, other parts will also need to be inspected and replaced as the miles add up.
30,000 miles: At this point, you will want to have various systems inspected like the steering and suspension components, exhaust system, and cooling system to see if everything is properly operating. You may also need to have fluids, like your brake fluid and coolant, filled or replaced at this time.
60,000 miles: When you hit this mile interval, a few additional components will need to be replaced. You should have the spark plugs replaced and get the air filters changed, too.
Any parts that do need to be replaced in your 5 Series we will switch out with components that are specifically designed for your vehicle. These parts not only are designed to last long, but will also help keep things working smoothly as you drive.
Schedule Your BMW 5 Maintenance with Us
When your BMW 5 Series is due for any of these or other routine services, you can contact us at BMW of Westchester to schedule an appointment at our service center. You'll be happy to know your car is in great hands with our expert technicians who have vast experience working on BMW models.
They will be able to make sure all the systems in your car are performing the way they are designed to by checking everything from secure connections to the overall condition of each component. Then when fluids need to be changed or worn out parts replaced, they will do so in a timely fashion so you can get back to safely and smoothly driving wherever you need your 5 Series to take you around Westchester County and Yonkers!