BMW 330i vs M340i

When you get behind the wheel of the 2019 BMW 3 Series, you will enjoy the exciting ride it provides as you feel its agile and sporty performance. This stylish sedan also comes in various configurations, including the 330i and the M340i.
To help you decide which of these two models has what you need for your commute around the Westchester County and Yonkers areas, our team here at BMW of Westchester has compared the BMW 330i vs. M340i below.
Sporty Performance in Both Models
With either the 330i or M340i, you will enjoy an exhilarating and fun drive while gripping the steering wheel and pressing your foot on the gas pedal. They do, however, come with varying powertrains that alter the performance of the vehicle slightly.
Contact us today.
The 2.0L TwinPower Turbo 4-cylinder engine in the BMW 330i will produce 255 horsepower and 295 lb-ft of torque. This engine is matched with an 8-speed sport automatic transmission that comes with steering-wheel-mounted paddle shifters for more control over how that power is harnessed.
The BMW M340i is powered by a 3.0L TwinPower Turbo 6-cylinder engine. This engine generates 382 horsepower and 369 lb-ft of torque, also paired with an 8-speed sport automatic transmission with both automatic Sport and Manual shift modes.
While each car gives your great handling and smooth driving, the M340i has a little more power under the hood for quicker acceleration. The 330i, though, will help you save on fuel since it does get better gas mileage.
Interior and Exterior Style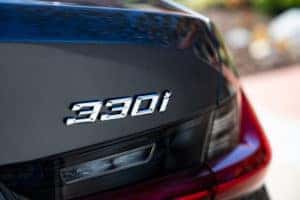 Both vehicles offer a great deal of features and amenities to make your drives comfortable and fun. They have unique designs, each with their own stylish touches. With SensaTec upholstery and power-adjustable front sport seats, you will have a comfortable ride while you enjoy cruising around in either of these vehicles.
The 330i also features a fine-wood oak grey/brown high-gloss interior trim for a warm and elegant design. The aluminum tetragon interior trim that the BMW M340i features gives this sports car a clean and modern look.
The exterior of each of these cars has a stylish and athletic appeal. There are subtle differences between them, though. The 2019 330i has V-spoke bi-color wheels, whereas the BMW M340i comes with M double-spoke bi-color wheels. The M340i also features an aerodynamic kit.
Should I Get the BMW 330i or M340i?
Seeing how each one performs powerfully and has its own unique design, it's clear that you can't go wrong with either the 2019 BMW 330i or the 2019 BMW M340i. To choose between the two comes down to what you are looking for in terms of performance and which design you personally like the best.
The best way to tell which one is best for you and your commutes around the Westchester County and Yonkers areas is to actually drive them. Contact us at BMW of Westchester to schedule a time to take one of the BMW 3 Series models we have out for a test drive!