2019 BMW 3 Series Trim Levels

The all-new 2019 BMW 3 Series trim levels have received a full redesign for this model year. This well-rounded and sporty vehicle is fun to take the wheel of and provides a thrilling performance. The 2019 BMW 3 Series can be found right here at BMW of Westchester.
In this article, we'll discuss the different trim levels offered in the 3 Series and what makes each of them unique. There are many ways to customize your drive and make it your own in Westchester County and Yonkers, so let's explore them. Contact us today!
BMW 330i
Move forward in style in the BMW 330i, a sedan that brings agility and spirit to the forefront. It's powered by a 2.0-liter 4-cylinder engine, which generates 255 horsepower, delivering a powerful ride you'll come to appreciate whether you're on city streets or out on the highway.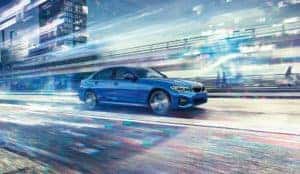 The engine also features an Auto Start-Stop function, which shuts the engine down when stopped at a light or otherwise idling, saving gas in the process. It's easy to have more influence over your ride, too, thanks to the standard Driving Dynamics Control. This feature lets drivers choose from several driving modes capable of saving fuel, providing a sportier feel when heading around tight corners, and more.
The interior is set up to be driver-friendly, starting with the 10-way power front sport seats and driver memory capability for exterior mirror and seat positions. Even if someone else takes the wheel, the positions can be just the way you left them the next time you get in.
Audiophiles will love the sound inside the BMW 3 Series, whether you're driving the 330i or the M340i, which we'll discuss in more detail in a moment. As for the 330i, you'll have a 10-speaker audio system with a pair of bass speakers right under the front seats and four midrange speakers in the door panels, giving the cabin a full, effortless sound. Check out the rest of our BMW 3 series inventory!
BMW M340i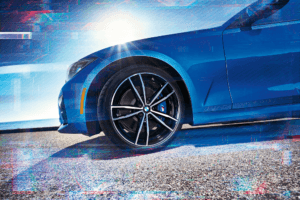 The major difference with the M340i is what you'll find under the hood. When you want a more thrilling driving experience in the BMW 3 Series, you'll want to turn to this trim and its 3.0-liter V6 engine. With its high-precision direct injection technology and turbocharger, it's able to generate up to 382 horsepower.
You'll also feel the difference in the drive with the M340i thanks to the M Sport Differential, M Sport brakes, and the sport-tuned suspension, increasing performance capabilities.
The seats can be positioned 14 different ways in this trim along with 4-way power lumbar support, giving you that extra cushion for longer drives.
Both cars feature the iDrive system with an on-board computer and 8.8-inch center screen. You'll have access to smartphone capabilities on this screen and the ability to find your next destination and that next song you want to play. Take a look at our entire BMW 3 series inventory!
Stop by Our BMW Dealer Today
The best way to see the changes in the 2019 BMW 3 Series? Visit BMW of Westchester today.
If you're looking for a unique car to call your own in Westchester County and Yonkers, see why the 3 Series may be that car.