BMW 3 Series MPG

While the BMW 3 Series is known for its sporty performance and premium design, how well does it do when it comes to conserve fuel? Here at BMW of Westchester, we wanted to shed some light on the fuel-efficient driving you'll enjoy in the BMW 3 Series while riding around Westchester County and Yonkers.  Schedule your test drive today.
Powerful Performance with Efficient Driving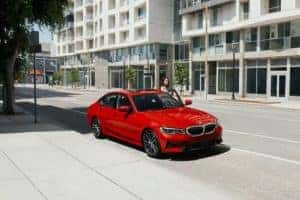 The BMW 3 Series is proof you can have the best of both worlds. That's because it comes with two powerful turbo engines that provide thrilling performance while also being designed to use as little fuel as possible to make each tank of gas last for miles.
The standard engine is a 2.0L TwinPower Turbo inline 4-cylinder engine that is capable of unleashing 255 horsepower and 294 lb-ft of torque. Even with all that power, the 3 Series will be able to get an EPA-estimated 26 city/36 highway MPG. This car can also hold up to 15.6 gallons of fuel at one time, which allows you to go a long time between stops at the gas station.
The available 3.0L TwinPower Turbo inline 6-cylinder engine will add even more excitement to your drive. With this engine, you will have fast acceleration as your foot pushes on the gas pedal to release 382 horsepower and 369 lb-ft of torque. With all of its strength, this robust engine is still able to give the BMW 3 Series an EPA-estimated 22 city/30 highway MPG.
Other Impressive Aspects
On top of the BMW 3 Series MPG, this car is also engineered to give you fun handling and smooth driving wherever you go. Its stylish design, which isn't just for show, is specifically built to give you an aerodynamic ride. This translates to a more agile car that can handle city streets and open highways with ease.
Shock absorbers and specifically tuned suspension helps make your ride a smooth one that keeps your comfort at a high level. You will also have added confidence driving thanks to the steadiness provided by systems like the Dynamic Traction Control (DTC) and Dynamic Stability Control (DSC).
A Comfortable Cabin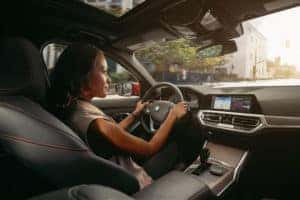 Since the BMW 3 Series MPG means you will get to spend more time in your car and less time stopping to refuel, you might as well sit back and get comfortable, right? Well, that won't be hard to do inside this car with its premium design and first-class amenities.
Adjust your seat's height, backrest angle, and more with the 14-way power front seats. Start up the engine with the simple push of a button, then set the temperature to your liking. Plus, your passengers can adjust their area warmer or cooler with the automatic 3-zone climate control system.
Then, get a comfortable grip of the leather-wrapped steering wheel before getting ready to take off. You can even make phone calls and adjust the audio system without having to take your hands off of the wheel with these controls right on it.
Come Test Drive the BMW 3 Series
Knowing MPG can help show you how this car is more than just a sporty ride. With the 3 Series, you will have a fun and exciting ride around every turn while also knowing it is doing its best to save fuel.
If you are in the Westchester County or Yonkers area, you can come by BMW of Westchester to check out the BMW 3 Series. Even contact us now to schedule a test drive!