Best Italian Restaurants near White Plains NY
Looking for a new place to indulge in carbs, cheese, creamy sauces, and everything else that the Italians know how to do perfectly? There's plenty of local eateries that have just what you're looking for, whether you're in the mood for a giant, piping-hot pizza, or a comforting dish of your favorite creamy linguine. Here are our picks for the best Italian restaurants near White Plains, NY, where you can eat until you're fit to burst.
359 Mamaroneck Ave, White Plains
This little spot was featured in Westchester Magazine's "Hidden Gems" and offers options to dine in or carry out, with a range of options from casual to gourmet. Whether you'r e in the mood for pizza and sandwiches, or your favorite classic pasta dishes, there's something for everyone on the menu, making this a great go-to family meal. In nice weather, there's a beautiful Mediterranean-style rooftop garden where you can enjoy your meal.
99 Court St, White Plains
This upscale Italian eatery is the perfect spot for your next date night, with a large menu of authentic dishes and a beautiful, decadent atmosphere—they even have a waterfall inside the restaurant! Every gourmet dish you can imagine is available, featuring favorites such as veal chop, prime steak, filet mignon, imported cheeses, and much more. The restaurant is popular all the time, but is especially well-known for its incredible holiday display throughout December. Order a bottle of wine and relax!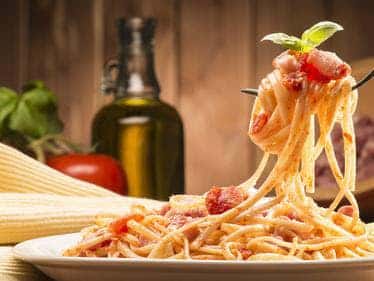 478 Mamaroneck Ave, White Plains
This Northern-Italian restaurant strives to artfully blend traditional dishes with innovative cuisine. All pastas are freshly made by hand each day, so you can order the very best orecchiette, linguini, rigatoni, and Rotolo just like your grandmother would prepare at home. Dive into a plate of lamb shanks, bone-in rib eye, veal, or filet mignon, and don't forget to choose a wine to accompany your meal. A selection of fresh, authentic, homemade desserts is available each day, and you certainly won't want to miss out on those, either!